Matched Betting has taken a back seat now in our house and we have embraced Each Way sniping! If you missed what Each way sniping is all about then check out The Fire Starter post on it all!
I am fairly excited about EW sniping for some reason! I love how it is a sit down between these times type of deal and after a certain time we stop and go about with our days. It isn't risk free though so we aren't talking totally risk free easy money. Mr Fire and I are still in the testing stages and are only betting £4 at most.
I'm surprised that gubbing hasn't really gotten in the way too much, there are so many bookies out there that its easy to cut your losses on the gubbed accounts and just open a new one.
Actual Match Betting has taken a back seat now. I Each way  snipe about three times a week depending on childcare and other morning commitments. Mr Fire doesn't have the luxury of picking it up when he chooses since the day job comes first for the moment. I'm happy to be testing something out that seems to be a money making income stream.
The actual numbers
Ok so I messed up! I didnt track my deposits so whilst when I track my handy little spreadsheet Mr Fire made its says I good profit of £26.14, once I tracked my deposits and compared it with how much money was left in my bookies it looks more like £8.41.
Not amazing but also not bad little profit for quite a little bit of work. Mr Fire does his sniping at work and I usually do mine after the school drop off whilst doing a few other things.  I did quite a bit of moving money around in May whilst finding my feet and it was very confusing having to track it all at the end of the month so I'm starting fresh now in June.I will be tracking all my deposits and withdrawals. I'll be able to provide a better breakdown next month hopefully!
Mr Fire thinks he made about £50 but he isn't quite sure yet since his spreadsheet is split between several laptops due to trying to find the time to fit it all in.
I was worried when I first stopped Matched Betting as we had already paid for our Oddsmoney subscription but there is no way we could do Each Way Sniping without it! Its more than paying for itself!
Don't forget if your interested in trying some Matched Betting, then I highly recommend Oddsmonkey. (affiliate link)  We couldn't make any money without it! I also have a handy referral link if you would be so kind as to use it.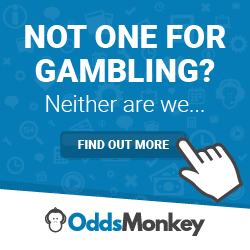 I also recommend Smarkets and with this handy little link you get a free £10 bonus!
How is your Matched Betting going? Have you tried Each Way Sniping?